There are no more items in your cart
Shipping

Free

Total

£0.00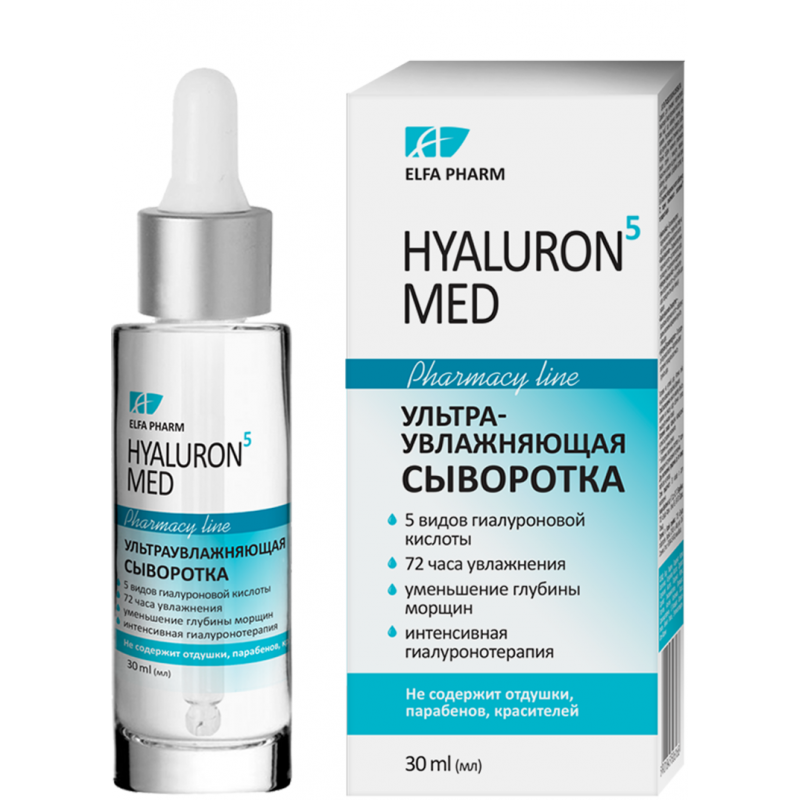  
ULTRA-MOISTURIZING SERUM HYALURON5 MED 30 ML ELFA PHARM
Add our email to whitelist to avoid getting them into SPAM folder

Fast shipping to all UK destination

30 days money back guarantee

Security all transactions
Serum for intensive hyaluronic therapy. The concentration of 5 types of hyaluronic acid is five times higher, which provides enhanced serum action. The ultra-moisturizing formula makes the skin supple, smooth and pleasant to the touch.
Active components:
- Hyaluronic Acid - a high molecular weight hyaluronic acid - creates a delicate film on the skin, protecting the epidermis from moisture loss.
- Sodium Hyaluronate - medium molecular hyaluronic acid - delivers moisture to the skin, smoothing it and soothing irritation.
- Hydrolyzed Hyaluronic Acid - low molecular weight hyaluronic acid - acts on the deep layers of the skin, improving skin condition and reducing wrinkles.
- Sodium Hyaluronate Crosspolymer - cross-linked hyaluronic acid - provides perfect hydration, restoring skin elasticity and radiance.
- Hydrolyzed Glycosaminoglycans - Hyaluronic acid polysaccharides - enhance the moisturizing effect, improve the elasticity and resilience of the skin.
Benefits:
- carefully selected components slow down the aging process and reduce wrinkles;
- the use of serum for day and night cream provides effective round-the-clock skin care;
- 72 hours of hydration;
- reducing the depth of wrinkles;
- 5 types of hyaluronic acid.
Appointment:
- dehydrated skin;
- dry and sensitive skin;
- wrinkles;
- dull skin.
Contraindications: Individual intolerance of components.
How to use: Apply a small amount of serum on cleansed skin and gently massage with your fingertips.
Ingredients: aqua, glycerin, sodium hyaluronate crosspolymer, hyaluronic acid, hyaluronic acid hydrolyzate, sodium hyaluronate, glucosaminoglucan hydrolyzate, propanediol, pullulan, allantoin, benzoxyl resin, xanthan resin, hydroxydiaceto, hydroxydiaceto raspberries.
Reference: 6151
Brand: ELFA PHARM
EAN: 5901845506151
Reference: 6137
Brand: ELFA PHARM
EAN: 5901845506137
Reference: 6144
Brand: ELFA PHARM
EAN: 5901845506144
16 other products in the same category: